North-East Diary
1939-1945

Roy Ripley &
Brian Pears
© Copyright Brian Pears 1994-2011
Background
Information
Sections 16c to 22
CIVIL DEFENCE (formerly ARP) continued
ARP FACILITIES, BLAYDON URBAN DISTRICT continued
Public Shelters
Stella
NZ172640
Blaydon
NZ180636
Blaydon
NZ181635
Blaydon
NZ185635
Blaydon, Chain Bridge Road
NZ192635
Blaydon, Scotswood Bridge
NZ197635
Blaydon
NZ185632
Blaydon
NZ190632
Blaydon
NZ186631
Derwenthaugh
NZ202631
Axwell Park
NZ196627
Blaydon, Shibdon Road
NZ193626
Blaydon Burn
NZ164625
Bleach Green
NZ186625
Winlaton
NZ176623
Winlaton
NZ174621
Winlaton Mill
NZ185619
Greenside Bank, High Spen
NZ141602
Lockhaugh
NZ175600
Cardiff Square, High Spen
NZ139597
St Patrick's Church, Hookergate
NZ145586
Rowlands Gill
NZ167586
Chopwell Hotel, Derwent Street, Chopwell
NZ118583
Norman Road, Rowlands Gill
NZ163583
Orchard Steps, Rowlands Gill
NZ157577
Lintzford
NZ148571
Blackhall Mill
NZ121570
Location of Sirens
Blaydon Council Offices
NZ186631
Hallgarth Farm
NZ175624
Derwenthaugh Coke Works
NZ193615
Ottovale Coke Works
NZ175631
Warden Post, Rowlands Gill
NZ165584
Newcastle Alloy Company, Highfield
NZ152581
Garesfield Colliery, High Spen
NZ139598
Power Station, Chopwell Colliery
NZ116584
British Restaurants
Shibdon Cottage
NZ187630
Chopwell Workmen's Club
NZ120585
"Cash & Carry" Restaurants.
Highfield Methodist Church
NZ151604
Stanley House, High Spen
NZ140600
4 Burnopfield Rd, Rowlands Gill
NZ168605
Winlaton
NZ177623
Emergency Feeding & Sleeping Centres. (Durham County Council)
Feeding
Shelter
169
Lilley Drift Institute, Rowlands Gill
30
--
NZ167591
170
Rowlands Gill Council Schools
--
100
NZ166591
172
Winlaton C of E School
--
80
NZ175619
173
Winlaton Council Schools
--
150
NZ173618
174
High Spen Senior School
--
150
NZ139594
175
High Spen Junior School
--
200
NZ140593
176
High Spen Co-op Hall
40
40
NZ140600
177
Hookergate Co-op Store Hall
40
40
NZ141589
178
Low Spen Miners' Welfare Hall
60
80
NZ146588
179
St Patrick's Church Hall
50
50
NZ145587
180
Highfield Council Schools
--
250
NZ151585
181
Hookergate Secondary School
--
300
NZ145592
182
Chopwell West School
--
125
NZ115582
183
Chopwell East School
--
250
NZ112583
184
Chopwell Church Hall
60
60
NZ120586
185
Chopwell Workmen's Club Hall
60
--
NZ120585
295
Hertford House, Blaydon
80
80
NZ183633
Blaydon East School
?
?
NZ189628
---
Coastal Batteries in Northumberland, Durham and North Yorkshire
Amble Bty
Part-time close-defence Bty
Castle Bty, Tynemouth
6.0"
C16-1956
Full-time major Bty
Castle Bty, Tynemouth
9.2"
C16-1956
Close-defence emergency Bty
Clifford's Fort Bty, Tynemouth
6.0"
C16-1956
Druridge Bay Bty, Widdrington
Part-time close-defence Bty
Fidra Bty, Berwick
Part-time close-defence Bty
Filey Bty
6.0"
1940-46
Part-time close-defence Bty
Frenchman's Fort, South Shields
Close-defence emergency Bty
Gloucester Bty, Blyth
Part-time close-defence Bty
Heugh Bty, Hartlepool
1900-
Close-defence emergency Bty
Heugh Bty, Hartlepool
1900-
Part-time major Bty
Park Bty, South Shields
Part-time close-defence Bty
Pasley (Coatham) Bty,Tees
9.2"
1918-56
Close-defence emergency Bty
Roker Bty, Sunderland
6.0"
1940-46
Full-time major Bty
Scarborough Bty
6.0"
1940-46
Part-time close-defence Bty
Seaham Harbour Bty
6.0"
1940-46
Part-time close-defence Bty
Seaton Carew Bty
6.0"
1940-46
Part-time close-defence Bty
Seaton Bty, Blyth
Full-time major Bty
South Gare Bty, Tees
Full-time major Bty
Spanish Bty, Tynemouth
6.0"
1892-56
Close-defence Bty
Whitburn Bty, Sunderland
Part-time close-defence Bty
Whitby Bty
6.0"
1940-46
Part-time close-defence Bty
---
Under wartime conditions and a new found freedom, the government issued a series of draconian measures to deal with the rapidly changing circumstances of those in a position to undermine security and morale. That very familiar phrase - even today - just about covered everyone, caught in the net were found to be political dissidents and defeatists, careless shopkeepers, unscrupulous businessmen, even ordinary men and women having a conversation in a pub or a club. The usual type of villain was present as well, of course!
The laws covering the 'black-out' were rigorously enforced, particularly at the beginning of the war, for instance the police were called to the home of an 83-year-old man where they found a hostile crowd shouting "Smash the door down!" Lights showed in two front room windows. The court fined him £2 - the equivalent of four times the weekly pension of a single man in 1939.
The offences concerning security and those appertaining to public morale were many and varied, as were their sentences. A consulting engineer got into conversation with a clergyman in an hotel, during which the engineer told the cleric certain secrets 'that may have contained information vital to the enemy' the clergyman reported this to the police and the talkative engineer was jailed for four months. The Witchcraft Act of 1735 was even trotted out (in January 1944) to prosecute a well-known medium and three others for having a seance in which a retired Indian Army captain was reported to have had a conversation, through the medium, with his son, reported missing in May 1940 and who since been reported presumed killed in action, the medium was sentenced to nine months jail.
The 22.30 curfew on aliens brought foreign seamen into the courts on a regular basis. On one night alone eight were taken to court. A Dane and a Swede were arrested 'on account of their foreign appearance' and fined £15 each. Three other Swedes were 'discovered' at 23.10 by two soldiers and arrested and finally two Greeks who got lost, went to a police station to get help in finding their way back to their ship, they were prosecuted and fined £10 each.
Some of the other offences common during the war were, the forging or stealing and/or selling of ration books, petrol coupons or clothing coupons, the transference of coupons between friends was an offence, even without payment for them - obtaining rationed goods without surrendering coupons - unlawfully endeavouring to breed disaffection among HM Forces for instance, telling a soldier that he was a fool for fighting for a country that only paid him a pittance when munitions workers got paid much more for staying safely at home.
Trading on the black market, that is the exchange, barter or selling of goods or foodstuffs that were held to be obtained illegally, for instance, there was a black market in toys which were made from materials pilfered from factories on war production. There was also a black market in meat from illegally slaughtered beasts ie: those that were old or diseased (there was a health risk there too). - cases of profiteering usually came about when goods in short supply were stolen, then offered for sale, or a shopkeeper realised he had some old stock on his hands that had in the period between buying and selling become scarce. The government did try to stop this by regulating the price of goods but as usual there were loopholes, one trader was fined for making a profit of 450% on a controlled price of a packet of hairgrips - the list was endless.
The shortage of building materials and the amount of bomb damage suffered led to massive increases of fraud and fraudulent claims both by building contractors and those in charge of tenders, stealing from stores of builders supplies was rife, even to the theft of tarpaulins used to cover the bomb damage before repairs had been sanctioned or started.
The famous were not excluded from the net. Noel Coward was fined twice for currency offences, he was caught out because a Bank of England clerk, during his leisure hours had been reading Coward's autobiography 'Present Indicative' and noted a passage in which the actors representative had invested a lot of money in American securities for him. Lord Donegall was prosecuted for a similar offence. The Countess of Mayo for a rationing offence. Bandleader Victor Silvester was fined for a smuggling offence. Ivor Novello went to prison for eight weeks, for a motoring offence (misuse of petrol). The Secretary of South Essex Waterworks made three unnecessary journeys in 1943 in his car and was fined £145 and 10 gns. (£10.50) costs, there were many cases like this during the war.
There were so many ways to fall foul of the law that this chapter on 'Crime' doesn't begin to scratch the surface of the problem, and there aren't too many books that touch upon the subject, perhaps its just as well, its nothing to be proud of. Fortunately not too much of it happened in the North-East, although some worthies of Newcastle upon Tyne were questioned rather closely about the illegal disposal of the Fire Brigades motor pump - BB 999.
Here is a further list of things you could not do:- Queue jump - throw rice or confetti at a wedding - shine a light during blackout hours - have a car radio - sound a factory hooter - buy a large scale map - release a racing pigeon without police permission - sleep in an uncamouflaged tent - hang out washing at night and ladies could not purchase shoes with heels higher than two inches.
---
The sites were constructed so that enemy aircraft had to fly over them before they reached the real target. They were a series of strategically placed lights and controlled fires set to simulate factories, government stores, ammunition dumps, iron and steel foundries, marshalling yards and dummy airfields working under blackout conditions, usually in an open field some distance away from the real target.
Furnace and locomotive glows were reproduced by red and amber lights shining down on sand. Carbon arcs shielded from the weather by a glass cover were used to create tramcar flashes. An irregularly blinking light to a moving aircraft could be provided by a light shining under a roof of loosely bound twigs and thin branches. A factory skylight via a reflected light from a lamp under a wooden panel.
The simulated and controlled fires were meant to deceive the enemy into thinking that bombs already dropped on these dummy sites had already started fires and that the explosions that followed were the factories actually blowing up. Obviously timing was of great importance here. German sites were detected by our pilots because the lights were turned on as the aircraft approached and were left on as they flew over, whereas the more realistic situation would have been to leave the lights on until they must have been seen by the aircrews, then turned off and left off.
The construction, control and running of these sites was far more complicated than described here. Each decoy airfield for instance had a complement of one sergeant, three corporals, fifteen aircraftsmen, one driver and a 3cwt lorry. After much trial and error the 'airfield' was equipped with dummy aircraft, Wellingtons cost £400, Blenheims £150, Whitleys £160 (all three, types of bomber) and Battles (fighter) £50. Vauxhall even produced an inflatable model of their famous Bedford truck. There was a mock aerodrome near North Lodge, Beamish. It was situated in a twenty-one acre field and had a supposed flare path, which was lit on alert.
The first civil operation for an area was on Teesside and in November 1940. Eight sites were constructed for ICI and two for Dorman Long which became operational in 1941. The number of sites fluctuated as the war progressed, the need for them fell dramatically in 1942, and by the end of 1943 they were shut down completely. How effective where they ? - overall comparisons cannot realistically be made. Between June and December 1940, 227 attacks had been made on the decoys, which seems to be a fairly good result, and there were many more in the years that followed.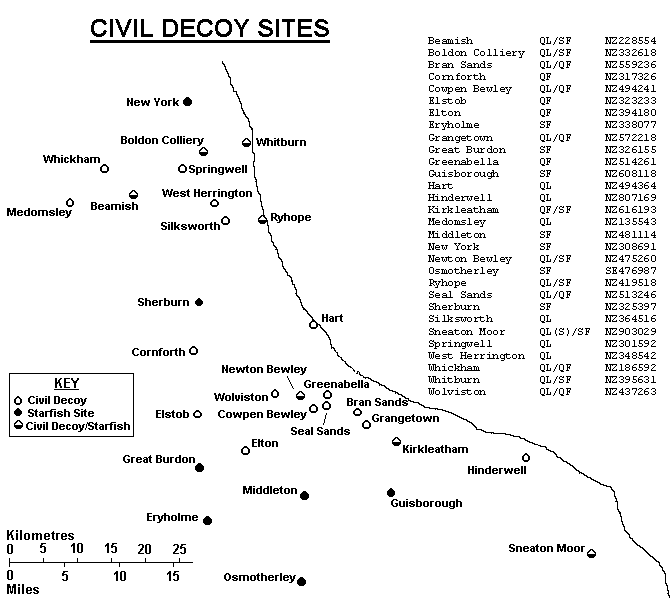 The abbreviations "QL" and "QF" relate to the use if Lighting or Fire effects respectively. Both types of site protected specific industrial or transport installations, whilst Starfish (SF) sites were much more sophisticated sites which could be configured to protect a wide range of potential targets.
Installations Protected by Decoy Sites
Beamish
Low Fell (Tyne) Marshalling Yard
Boldon Colliery
Tyneside Docks
Bran Sands
Cleveland iron works
Cowpen Bewley
ICI Billingham
Grangetown
Factories in Middlesbrough
Hinderwell
Skinningrove Iron Co
Medomsley
Consett Iron Co
Newton Bewley
ICI Billingham
Ryhope
Sunderland Docks
Seal Sands
Clarence or Cargo Fleet Iron Works
Silksworth
Silksworth Coke Ovens and marshalling yard
Springwell
North bank of Tyne and naval dock yards
West Herrington
Sunderland Forge
Whickham
Blaydon Colliery and Marshalling Yard
Wolviston
ICI Billingham
In an earlier paragraph the impression given, is that German decoy sites were quite easy to spot, but an article in the War Illustrated printed after the war states: "During the first half of the war (up to 1942) German decoy sites and dummy factories were very effective against bombing, A decoy of the Krupp works at Essen proved to be exceptionally successful. It consisted (according to the International Committee for the study of European Questions) of a system of lights, some of which were stationary and represented streets and workshops, whilst moving lights varying in colour and intensity, simulated processes such as tapping, rolling and welding. A lorry with a trailer moved continually about the site of this dummy factory. By the end of 1943 this trick had been discovered by the Allies; but until January 1943, of bombs dropped by Allied aircraft about 64 per cent of the high explosive and 74 per cent of the incendiaries fell on the dummy and not the real works".
---
This meant advancing the clock two hours ahead of Greenwich Mean Time, instead of the more usual one hour. DST was in force in the years 1941 to 1945, also in 1947.
---
These were fitted and distributed by members of the ARP about the time of the Munich crisis in September 1938. A simple black rubber one for most civilians, a red and blue rubber 'Mickey Mouse' design for younger children and a gas helmet for babies. The round black metal filter was reputed to be protection for all known poison gases when originally issued, but in May 1940 wardens began fitting a brightly coloured extension, known as "contex" to civilian gas masks to give protection against Arsine Gas. Only service masks previously gave protection against this gas.
---
People were urged to spend holidays at home and Councils were urged to further this by encouraging more entertainments such as bands and dancing in parks and other public places, arranging more visits by fairs, concert parties, theatrical companies and variety companies to factories and other places plus extra performances at theatres and cinemas. The promotion of open air activities like gardening, walking, cycling, tennis, golf, swimming and athletics meetings and a more extensive provision of popular novels at public and other libraries. In Gateshead, many of the open air activities took place in Saltwell Park. A colour film of some of these activities was taken by Gateshead Police and part of this is featured on a video entitled "Gateshead - A Journey Through Time" which is available for sale at Gateshead Central Library.
---

© Copyright Brian Pears 1994-2011